AEAF Awards 2023 are now open for entries. Start 2023 by entering your team's best work from the past year. AEAF Awards are given in 20 categories.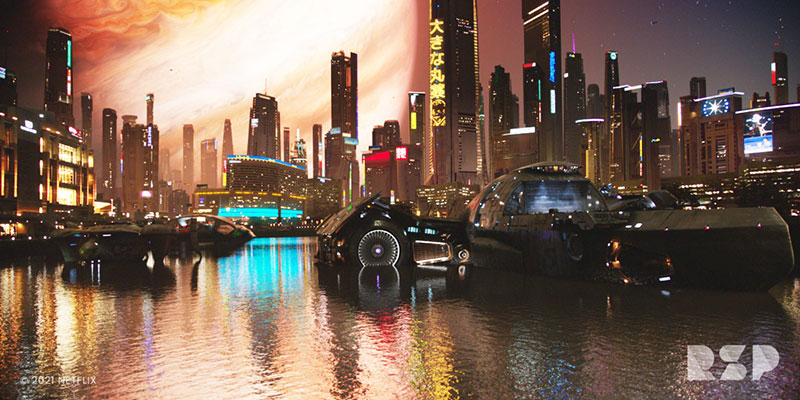 RSP entered their work on 'Cowboy Bebop' in AEAF 2022.
AEAF Awards 2023 are now open for entries. Start 2023 by entering your team's best work from the past year. AEAF Awards are given in 21 categories. Go to the AEAF Entry Form, select your categories and enter your work. Watch this space for more news and make sure your team's projects are there.
Take a look at two of the newest entries below, one from Taiwan in the Live Event Installations category, and another from Germany in Commercials Animation.
Key of the Maze, part of the 2023 Taiwan Lantern Festival in Taipei, is a labyrinthine light and shadow installation that can be experienced in two ways – for both observers and participants. Observers can view the entire maze from the edges and observe what people are doing in each of its areas. Participants can enter the maze to experience each of its elements for themselves, and enter its centre to find a hidden exit, a 4-story LED digital light tower at the centre, which is the 'Key of the Maze' in the title. The light and shadow, animated using AI, are linked via 5G to a data source that continuously changes the visual experience. The concept and design were created by Ouchhh studio, a pioneer in AI/ML approaches to data painting and sculpture, while FREES Design International handled the installation.
Dog Ear Films in Munich created a lively animated spot for McDonaldHouse Charities, a nonprofit family and children's charity known for the little donation houses seen on every McDonald's counter in Germany. The animation Small Coin, Big Impact, made in a tactile art style, tells the story that just a little coin can help sick children bring their families close, especially on Christmas. A nice behind-the-scenes fact is that the drawings in the picture frames were actually made by some of the young patients. The main tool used for the project was Houdini, especially the KineFX node set for blending mocap with traditional animation, and for the many small simulations like the fire or the cookies as they pop up on the plate. Other tools include ZBrush, Octane and Nuke.

CATEGORIES
Commercials - Animation - Commercials - VFX - Feature Films VFX - Feature Film Animation - Feature Film Sequence - Game Trailers - Idents & - Stings Broadcast - Live Event Installations & Projections - Music Video - Short Film - TV Series - TV Series - Children - Titles/Openers - TV - Titles/Openers - Feature Film - Web/Viral - Education & Infographics - Virtual Reality - Augmented Reality - Event Openers - Corporate Video - Student
AEAF is an international competition and screening and speaker program, now in its 24th year with entries from around the world.
The awards are given for creative and technical excellence in the use of visual effects and animation in the creation of screened work. The judging criteria include the technical skill, artistry and quality of the visual effects and animation, their appropriateness within the project as a whole, and their contribution to storytelling.
To view winning and finalist projects from last year, please visit the AEAF Hall of Fame.
Entering is simple – find all the information and links for submitting and uploading projects on the Entry Form page.
Tips for Entering
AEAF receives many entries, which makes judging exciting but challenging. The first place judges look when trying to narrow the field and make critical decisions is the Entry Form. This form is your chance to tell us about your work and your team, but unfortunately, many projects arrive with no other information than a title and the name of a studio or artist.
But you can include lots of other details. For example -
- Who were the lead artists on the project and what were their roles?
- What were the main tools in your pipeline? Did your pipeline take advantage of them in special ways? Have you used proprietary software?
- How much time did you devote to the project?
- What was challenging, easy, surprising, fun? What did you learn?
- Have you achieved something groundbreaking in this project that you want us to know about? What has been done for the first time?
When you submit your projects, if you do not have enough time to fill in every field or supply all the info you'd like to, you can upload your work and then send more details later via email. We will even remind you.
The more the judging panel knows about projects the better because the best VFX work is often made to look simple, easy or even invisible. Memorable animated characters and brilliant FX are subtle and look effortless. The judges will understand the work much more accurately if you supply background details.
You don't need to write something complex. Lists and bullet points are good. Give the judges and your projects a head start by sharing some of your process and tools. www.aeaf.tv