AEAF Awards Online - Webinars 18 - 20 August
18 August
UTS ALA - Spirit - Dylan Neill
Mila - Cinzia Angelini
Flying Bark - 100% Wolf - Alexs Stadermann, Jacquie Trowell
19 August
Framestore - Jingle Jangle - Ian Spendloff, Johannes Sambs
Rodeo FX - Lovecraft Country - François Dumoulin
The Embassy - Warrior Nun - Paul Copeland, Nick Whiteley, Riley Gray
20 August
Animal Logic - Peter Rabbit - Maraiah Tominez
Rising Sun Pictures - Mortal Kombat - Dennis Jones
Industrial Light & Magic - Luke Hetherington
AEAF Awards
AEAF is an annual celebration of VFX and Animation with a Speaker Program and Awards Night, coming to Sydney and online in August.
The AEAF Speaker Program features presentations from VFX Supervisors and Producers, Animators, Animation Directors and Creative Directors. Their talks are chance to see and hear about the projects they have been working on, and about the artists themselves. You will come away with an inside understanding of the challenges they faced and the teams they worked with, why they made key artistic and technical decisions and how their choices contributed directly to each production.
The 2021 AEAF Speaker Sessions were streamed to viewers across the world in three time zones over three days 18,19 and 20 August.
The Awards Screening were online 20 August Sydney time (AEST), West Coast USA (PDT) and UK time (DST)
AEAF Program Times
18 August
Sydney Time (AEST) 4:30 pm PDT (LA) DST (LON)
UTS ALA - Spirit - Dylan Neill 4:30 pm 3:00 pm
Mila - Cinzia Angelini 5:30 pm 4:00 pm 1:00 pm
Flying Bark - 100% Wolf - Alexs Stadermann, Jacquie Trowell 6:30 pm 5:00 pm 2:00 pm

19 August
Framestore - Jingle Jangle - Ian Spendloff, Johannes Sambs 4:30 pm 3:00 pm 12:00 pm
Rodeo FX - Lovecraft Country - François Dumoulin 5:30 pm 4:00 pm 1:00 pm
The Embassy - Warrior Nun - Paul Copeland, Nick Whiteley, Riley Gray 6:30 pm 5:00 pm 2:00 pm

20 August
Animal Logic - Peter Rabbit - Maraiah Tominez 4:30 pm 3:00 pm 12:00 pm
Rising Sun Pictures - Mortal Kombat - Dennis Jones 5:30 pm 4:00 pm 1:00 pm
Industrial Light & Magic - Luke Hetherington 6:30 pm

AEAF Awards 7:30pm 5:00 pm 3:00 pm
Speaker Lineup
Lovecraft Country
François Dumoulin
VFX Supervisor, Rodeo FX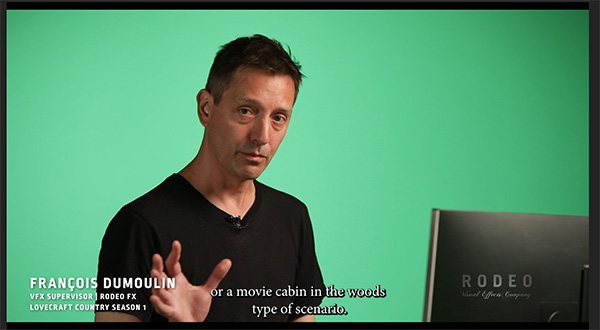 François Dumoulin from his presentation for AEAF 2021

François Dumoulin will talk about his team's work on 10 episodes of one of the biggest sci-fi drama of the season, 'Lovecraft Country', achieving 1,218 shots of scary monsters, wild transitions and spectacular environments. Active in the VFX industry for almost 20 years, François joined Rodeo FX in 2012.
François has worked as a Compositing Artist on projects such as 'Now You See Me', 'Pacific Rim' and 'The Host'. He completed VFX supervision of David Yates' 'The Legend of Tarzan' and Ron Howard's 'In The Heart of The Sea', in addition to on-set supervision for 'Lucy'. François recently supervised Rodeo FX's contribution to 'Ant-Man and the Wasp' and Andy Serkis' 'Mowgli: Legend of the Jungle'. www.rodeofx.com

WARRIOR NUN
THE VFX JOURNEY OF FROM PRE TO POST PRODUCTION
Presented by The Embassy
As the sole vendor on Netflix Warrior Nun, The Embassy was responsible for completing nearly 700 shots with a studio of 30 artists, bringing the same level of quality the studio achieves in their film and commercial work. The team will discuss all aspects of production, from creative concept and onset planning, to post-production, focussing on elements that were unique to the series and interesting challenges that The Embassy faced throughout the production.
Paul Copeland, VFX and Asset Supervisor


Paul Copeland has been at The Embassy for over 14 years. His diverse skill set encompasses all aspects of digital asset creation, animation, on-set VFX supervision and CG supervision. During his career as a generalist, he's focussed primarily on the creation of high-quality assets for film, television and commercials with a portfolio that ranges from the creation and animation of Mark 1 of Iron Man and the Exosuit for 'District 9', to making creatures, vehicles and environments for some of the world's biggest brands. Paul thrives on bringing amazing designs to life on screen and helping creators tell their stories.
Nick Whiteley, Compositing Supervisor


Nick has over 13 years of experience compositing high end blockbuster features and TV. Some of Nick's credits include 'Wrath of the Titans', 'Narnia', 'Pirates of the Caribbean', 'Sherlock Holmes II', 'Night at the Museum', 'Maleficent', 'Sully' and, more recently, 'A Wrinkle in Time' and 'Skyscraper' before turning to work on shows for Netflix and other streaming services.
With over a decade spent closely working with some of the most renowned VFX supervisors and producers in the field, Nick has a strong skill set that encompasses all aspects of the industry. As a compositing supervisor, Nick has built several teams through the years. Seen as a motivator and a leader, artists enjoy working alongside Nick to produce the best work they can.
Riley Gray, Senior Compositor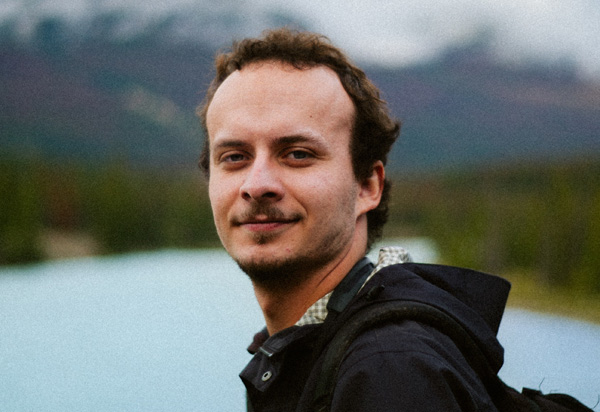 Riley as a filmmaker and visual effects artist currently working as a Senior Compositor at The Embassy in his hometown of Vancouver. Riley started his career at Framestore Montreal was then accepted into the Academy Program at MPC Vancouver. At The Embassy, Riley led the experimental look development on the first season of 'Warrior Nun', designing key ethereal effects for the series.
Mortal Kombat
Dennis Jones - VFX Supervisor, Rising Sun Pictures



DJ will share insights into his experience as lead vendor VFX Supervisor on Mortal Kombat.
Dennis Jones (DJ) is a Visual Effects Supervisor at Rising Sun Pictures and has almost two decades of industry experience. He has been an integral member of the RSP team since 2006 and he embodies the spirit that drives RSP to deliver great images. Initially a Senior Compositor, Dennis moved into supervisory roles, including VFX Supervisor on Peter Weir's The Way Back, The Sorcerer's Apprentice, Mao's Last Dancer, Watchmen and Green Lantern. DJ was also central in the delivery of RSP's contribution to Harry Potter & The Deathly Hallows, Parts 1 and 2, Gods of Egypt, The Legend of Tarzan and Pan. Recently, DJ supervised the lead vendor package on Mortal Kombat, and also supervised Black Widow, Dumbo and X-Men: Dark Phoenix. He acted as VFX Supervisor on Peter Rabbit, Thor: Ragnarok, Logan, and X-Men: Apocalypse. In 2015, Dennis was a proud recipient of a Visual Effects Society Award for RSP's work on X-Men: Days of Future Past.
Luke Hetherington
Industrial Light & Magic
Executive in Charge, Sydney and Singapore Studios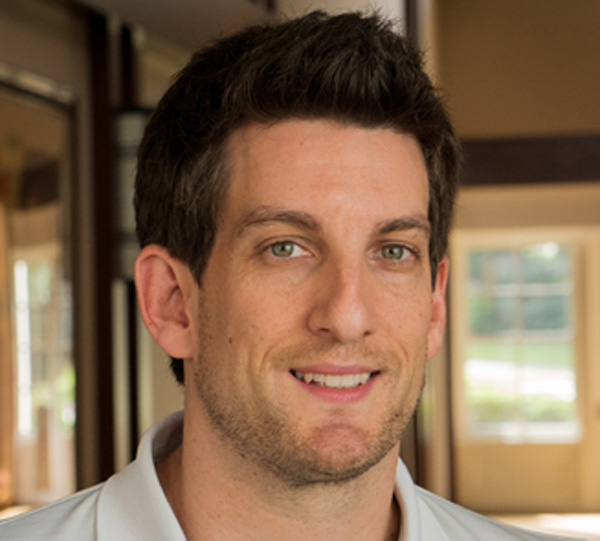 Luke's presentation will include a 2021 ILM update, including mention of recruiting and Virtual Production.
Luke Hetherington is the Executive in Charge of Industrial Light & Magic's Singapore and Sydney studios. Hetherington is responsible for all films in production at the studios and oversees marketing and bidding on future projects. Hetherington's experience in building high functioning teams plays a critical role in his work at the studio, as does his knowledge of both the Asian and global market and his ability to successfully collaborate with clients in order to achieve their strategic goals.
Prior to joining ILM, Hetherington had 20 years of experience in the animation and visual effects industry. He spent 17 years at Animal Logic in Australia where he helped lead the company through a period of outstanding growth. Starting as a digital artist and animator he went onto roles including Head of Film VFX, Executive Producer, Head of Production, and Head of CG.
His credits include Star Wars: The Rise of Skywalker, Star Wars: The Last Jedi, Ready Player One, Avengers Infinity War, Monster Hunt 2, Solo :A Star Wars Story, Sucker Punch, Knowing, Stealth, Monk Comes Down the Mountain, Walking with Dinosaurs 3D and the sci-fi TV series, Farscape.
Jingle Jangle: A Christmas Journey
A storybook presentation; creating a miniature storybook
Ian Spendloff Animation Director and Johannes Sambs VFX Supervisor Framestore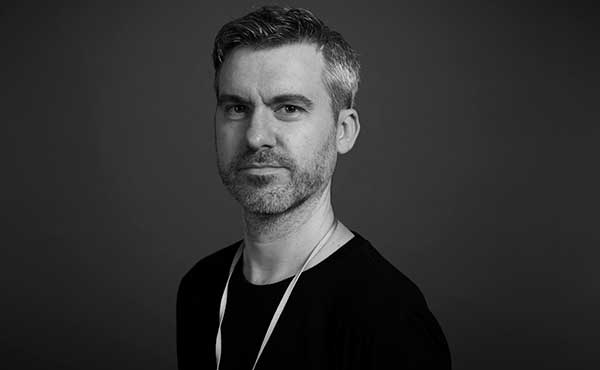 Ian Splendoff

Ian Spendloff was the animation director and Johannes Sambs one of the VFX Supervisors for the stunning fully-CG animated sequences in the Netflix holiday movie Jingle Jangle: A Christmas Journey.
In this session, the pair will provide insight into how the team concepted, designed and modeled the wooden figures as well as animated, lit and composited the animated sequences. This session will cover everything from defining the overall concept to designing characters, previs and storyboarding, automating 3D models and meticulously-creating mechanical environments.
Ian is a creative and a director with a wide range of projects to his name which include title sequences and animated TV shows and Johannes is a VFX Supervisor with experience working across many forms; commercials, TV shows and feature films. They worked closely with Jingle Jangle's director David E. Talbert, along with the Framestore team to concept, design, model and animate eight minutes of 4K full CG animation which features 250 CG assets; 21 3D characters, 59 2D characters and 170 different props and environments.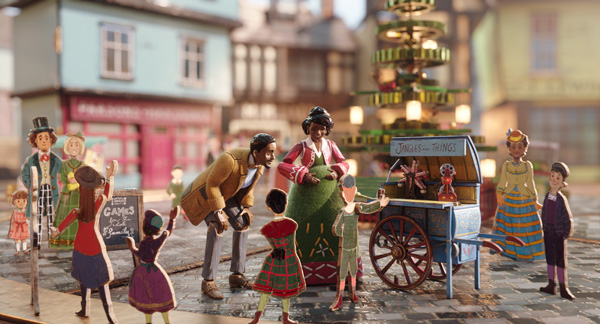 Jingle Jangle
100% Wolf - From Cinema Screen to TV Series
Alexs Stadermann, Creative Director and Jacquie Trowell, Series Director
Flying Bark Productions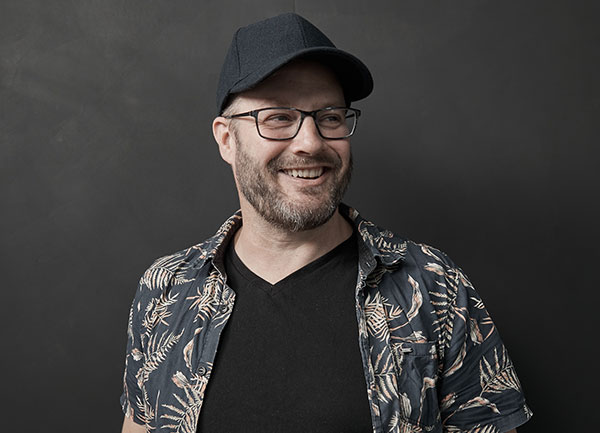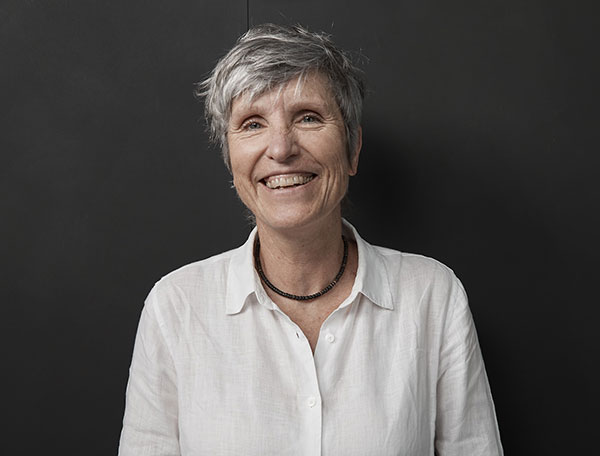 Alexs and Jacquie will talk about their experiences with the '100% Wolf' cast and story - Alexs is the Director of the 2020 film '100% Wolf', and Jacquie is the Director of its recent spin-off series, '100% Wolf: Legend of the Moonstone', currently airing on ABC.
Flying Bark's two Wolf Pack experts will unpack the contrasting processes needed to create their projects from a Feature Film and a TV Series perspective, while discussing the overlaps in pipeline and plots from the cinema screen to the TV screen.
Alexs Stadermann spent most of his career working for the major Animation studios around the world, including over a decade at Walt Disney Studios in Sydney. During his years at Disney, Alexs was the Unit Director of Bambi II and Tarzan II, Supervising Animator on Lion King 1 1⁄2 and Senior Character Animator/SFX Supervisor on six Disney titles. After his years at Disney, he directed two seasons of Planet Sketch, an animated comedy show for Aardman Animation in England and subsequently joined Animal Logic in Sydney as Head of Story on Zack Snyder's Legend of the Guardians. Alexs then joined Flying Bark as Series Director on The Woodlies. Alexs directed the successful international Maya the Bee – First Flight, and subsequently co-directed Blinky Bill – The Movie, and Flying Bark's most recent feature film, 100% Wolf. Alexs now oversees Flying Bark's slate of projects in development.
Jacquie Trowell began her animation career in South Africa and co-founded acclaimed animation
companies XYZoo Animation (1990) and Triggerfish Studios (1996). During her time as partner,
animator and director at both companies, she picked up numerous awards for children's
education and television commercials. She returned to Australia (her place of birth) in 2011 to work
as an independent animator and director.
Peter Rabbit 2
Maraiah Tominez, Animator - Animal Logic



Maraiah will take a deep dive into the animation created by Animal Logic for Peter Rabbit 2
MILA - An Incredible Animation Journey
Cinzia Angelini, Director MILA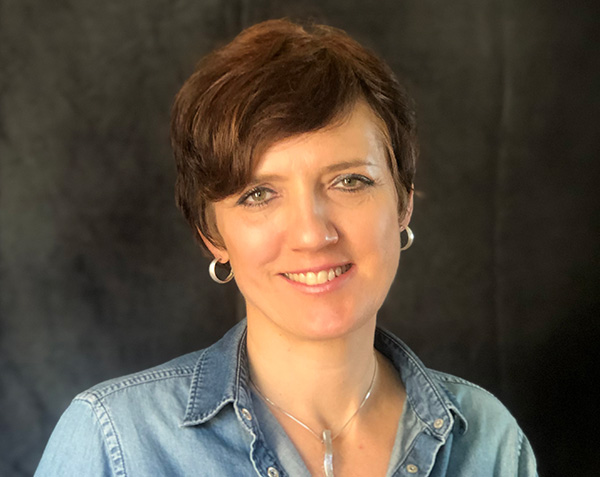 Cinzia Angelini
Director Cinzia Angelini will share how a team of 350 artists from 35 countries created an emotionally charged and thought-provoking 3D animated film about the collateral damage of war on children. The Director will discuss the challenges she had to overcome, and the tools and tricks she learned, on both the creative and production sides, in completing the film. Throughout Angelini's experience of creating 'Mila', she realised that the magic of animation not only touches people, it can create unforgettable memories as no other medium can.
Inspired by a World War II survivor and the story of a small girl and a woman who saves her, the message that children CAN handle difficult themes resonated with Cinesite Studios. After joining the team last year, the studio was instrumental in bringing 'Mila' across the finish line.
Cinzia will talk through the development journey of her film. It started out over 10 years ago as a group collaborative project completed by a team of artists dispersed all over the world. As its creator and producer, Cinzia began her project at a time when undertaking a 3D animated production independently was a daring move. "I really wanted to immerse the audience into something that could immediately come close to what you feel under an attack of bombers dropping bombs over your head. I went 3D regardless of the challenge it represented, but it has worked out," she said.
Cinzia Angelini, animated film director and creator, has worked for major international studios in the animation industry for more than 25 years. Her body of work includes Balto, Prince of Egypt, Spirit, Spider-man 2, Bolt, The Minions Movie and Despicable Me 3. Cinzia is currently directing HITPIG, an upcoming animated feature for Cinesite Studios.

UTS Animal Logic Academy, Sydney
Dylan Neill, VFX Lead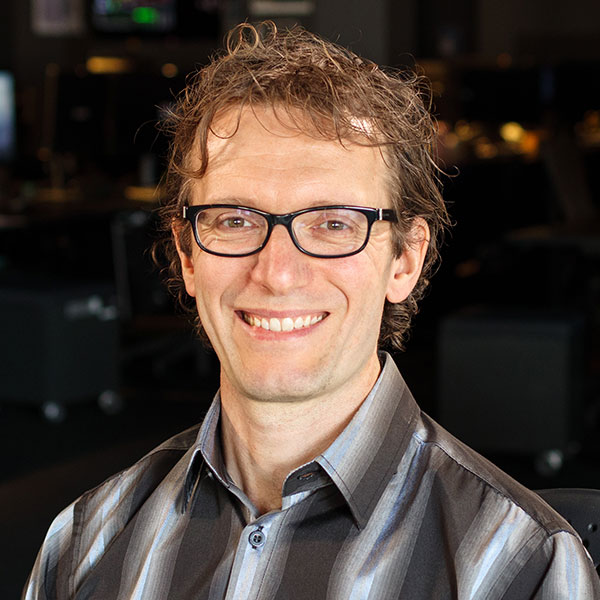 Dylan Neill
Dylan Neill from UTS ALA, VFX Lead and Houdini specialist, will talk about the Academy's project Spirit, with a focus on the use of Houdini and USD in its creation.
Dylan is a 3D artist and visual effects supervisor with more than 20 years experience. Dylan's expertise covers the entire range of CG animation production including games, advertising, television and feature films. His film credits include Outlaw King, Lord of the Rings, King Kong and I, Robot and he has worked on commercials for major brands such as Toyota, Qantas and Telstra.


This email address is being protected from spambots. You need JavaScript enabled to view it.
To see our Speaker Programs from previous years, go to Past Programs