AEAF Conference and Awards
AEAF is an international awards and speaker program, now in its 24th year, attracting the leading lights of the worldwide digital media and visual effects community as speakers, entrants, judges and attendees to the program of seminars and AEAF Awards night.
The AEAF Awards recognise and reward excellence and creativity in 20 categories of competition. Winners of AEAF Awards include premier post production and visual effects houses, many of the world's top film studios.
The AEAF speaker program gathers expert speakers from the VFX, animation and post production industries to talk about new trends, past experience and upcoming projects over two days that culminate with the Awards night. Speakers include VFX supervisors animators, directors and producers who will enlighten you with new, creative approaches to their work and insights into the projects they have contributed to.
PARTNERSHIP OPPORTUNITIES
AEAF is the premier event for digital media, TV and film production and visual effects industries. As a partner or of the AEAF your company will be at the heart of this international community, with the opportunity to influence purchasing decisions in a deeper and more personal way than any other marketing strategy. Partnership comprises a unique mix of branding, editorial coverage and association that extends beyond the event itself and will influence our audience during the months leading up to the AEAF and for months afterwards.
HARDWARE - SOFTWARE - SERVICES VENDORS
The AEAF is highly influential in the purchasing decisions of the industry, showcasing content creators' experiences with new software, hardware and emerging technologies and pointing the way to the computing needs of the future.
VFX - ANIMATION - POST PRODUCTION STUDIOS
Ad agencies, producers and studios take an interest in the AEAF Awards each year. As news of the entries, closing dates and Awards night is announced and projects are posted in the Online Festival, the Awards become an exciting platform to promote post production houses to customers, commissioning producers and peers. By focussing on your work, partnering with AEAF will help gain new work, recruit staff and show existing customers that your company is at the forefront of the visual effects industry.
EDUCATION FACILITIES
Our audience are always looking to increase their skills by learning new software, approaches and techniques. Whether you offer campus based courses with accreditation or online training, the broad spectrum of AEAF entrants and the companies they work in are a prime target audience. Many contributing artists are also keen to share their knowledge and are good candidates for teachers and tutors..
The promotion activities for the AEAF are as influential as the event itself, with details of AEAF Awards entries featured in media outlets before, during and after the event. The AEAF is a vital mix for any company wishing to sell their full range of software, hardware and services to the digital media, TV and film production and visual effects markets.
A variety of sponsorship packages are available to suit the marketing needs of your company.
After AEAF AWARDS NIGHT
After the event a significant level of publicity follows, including press coverage of the AEAF Awards online at digitalmedia-world.com and other media attention. This marketing activity will serve to promote our sponsors to both the core digital media, TV and film production and visual effects community and a much wider audience over an extended period. Sponsorship of the AEAF is the perfect support to any promotional campaign for a wide range of products and services over the coming year.
We can tailor a package to suite your corporate objectives and budget. Please contact us to go through the opportunities available This email address is being protected from spambots. You need JavaScript enabled to view it.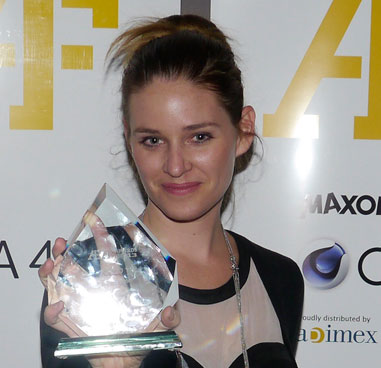 Partners
We are proud to have our partners as supporters of AEAF and the worldwide visual effects community.