Entries for AEAF Awards have just about closed, an exciting moment every year as we look over all the terrific work that has been entered. Thanks very much to every team participating.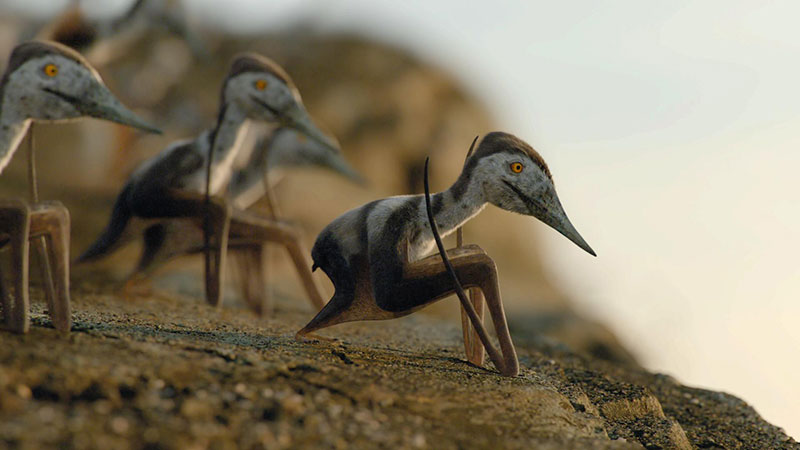 Entries for AEAF Awards are just about to close, which is an exciting moment every year as we look over all the terrific work that has been entered. Thank you very much to every team that has participated. We are looking forward to the judging process and Awards Night coming up in September. A short window for last minute entries from teams experiencing delays still exists until 15 July – but do not delay, as projects cannot be accepted past this date. Please visit the ENTRY FORM page today.
Below is a very small sample of the projects received most recently. Look out for others as they are posted.
The Mill Paris created a Commercial VFX with a sense of humour to launch Samsung's new Exynos 2200 mobile processor. The client's idea was to feature the graphic codes of the gaming world. 'Playtime is Over' is set in a retro-futuristic market where a woman wanders through the dusty stalls. Vendors offer her antique, pixelated products before an unexpected rabbit draws her towards the black market, where an underground economy is hidden. Aliens, humanoids and robots entertain themselves and take part in intriguing illegal sales. The fantastical scenes are made strangely real with models sculpted in Zbrush, textured with Substance and rendered in Arnold.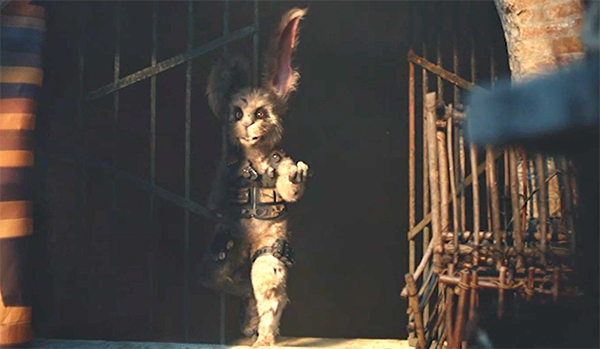 But tensions rise… The Rabbit, inspired by the irresistible Alice in Wonderland character, links two distinct worlds – the old video games with the most recent. In the first, we find references to old games like Tetris and Pac-Man on stalls selling pixellated fruits. In the second, we enter sophisticated games where anthropomorphic characters transport us into a virtual world. These parallels and contrasts illustrate the strengths of Samsung's Exynos 2200 mobile processor, promising to deliver the same quality of gameplay on your phone as on a console.
In Commercials Animation, Fin Design + Effects entered 'Tomorrow's Car', a 3-minute film for Hyundai based on their revolutionary all-new Tucson as a preview of its bold design and innovation-led future, a car that looks so futuristic that it really shouldn't be available in 2021. The campaign execution sees robots coming from the future to steal back what is rightfully theirs from 2021. The VFX execution of the spot required all of Fin's departments to pull together, as the studio was responsible for the design of an enthusiastic group of robots, through to on set supervision, Lidar scanning, character animation, FX integration and precise compositing of all shots on the project. Collaborating with director, agency and client, they successfully brought the campaign tag line 'Imagine That' fully to life.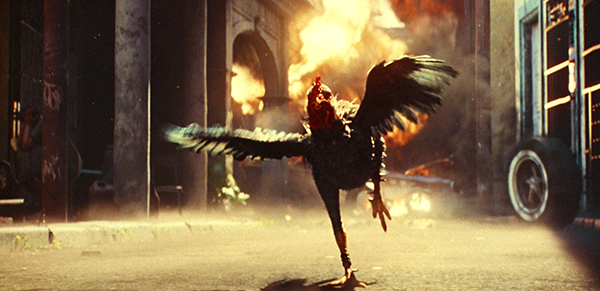 For anyone who loves a thrilling chase sequence, Important Looking Pirates' Game Trailer for Far Cry 6 'Chicharrón - Chicken Run' will put you on the edge of your seat. The extremely photoreal animation embellished by Houdini FX is beautifully lit and moves at breakneck speed through the streets of Yara, where guerrilla fighters seize any opportunity to oppose the regime – even when this opportunity happens to be a punk rooster wrecking havoc in the city. The team at ILP follows Chicharrón in a crazy and entertaining chase.
The Zeilt Productions team in Luxembourg has produced another beautiful animated Short Film called 'The Ogre', giving us a frightening look into the dark side of family life. The 3D animation, created in Maya, composited together with Nuke and edited in Premiere Pro, depicts a mother and child who live under the same roof as the Ogre, a cruel and violent creature. When the monster's anger shakes the walls of the house, there is only one way out – to hide and make no noise …
His tiny size against the Ogre's towering bulk and environment makes a fascinating contrast. Throughout, the little boy's fear is made palpable in his enormous eyes, furtive actions and desperate performance that pulls viewers into the story toward its inevitable end. 127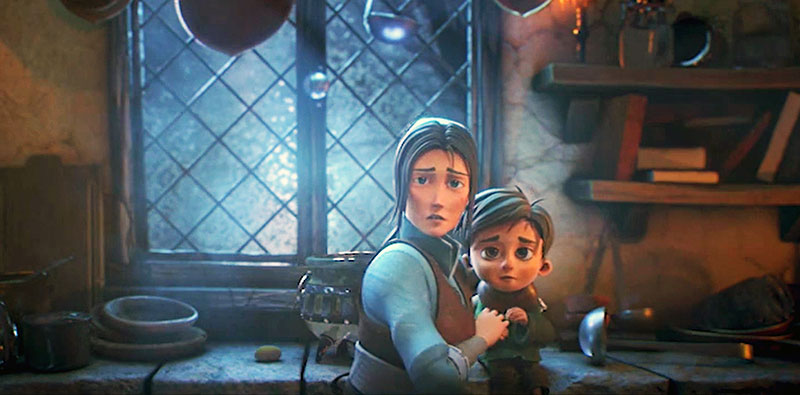 MPC Film and Episodic have entered a wonderful array of work created for some of the most exciting TV Series produced over the past year. These include 'Raised by Wolves', 'Around the World in Eighty Days', 'Halo', 'Vikings: Valhalla', 'Wheel of Time' and 'Prehistoric Planet'. Unfortunately, the video entries can't be posted online but are described here -
'Prehistoric Planet' shows a remarkably close-up, sympathetic view of what life must have been like for a huge range of prehistoric creatures. MPC's VFX team worked with experts at the BBC Studios Natural History Unit for this series, building 95 animals based on the Unit's designs and guided by their experts to ensure scientific accuracy. The full digital anatomy they created extended from bones and muscles to skin, scales, fur, feathers and teeth.
Their source material included fossil records and skeletal reconstructions, and modern animals exhibiting similar development. From this detailed foundation, MPC's animators have been able to precisely and convincingly recreate the animals' motion through their world. The results are surprisingly beautiful and moving as well as accurate.
For director Ridley Scott's otherworldly series 'Raised by Wolves', MPC's visual research drew from real world references that would influence all of the show's CG environments, creatures and effects. A major task was the transformation of the Necromancer character from Mother and back again. The Necromancer has powers far beyond what any human is capable of and is an extremely powerful, muscular version of the android Mother, but had to be based on a scan of the actress, a regular human. Critical proportions needed to match, and the team had to make sure that the transformations were subtle and properly contoured around her body.
One of the most challenging sequences takes place in a hallway when Mother attacks the Mithraic Arc using a deadly scream attack, tearing apart everyone in her path. The director' own concept sketch for the aftermath featured a hallway full of tendrils of blood. MPC's interpretation included the scream itself, an all in-comp effect using distortions and glows to visualise sound waves blasting from Mother's face toward her targets, as well as the blood, precisely matching the director's description.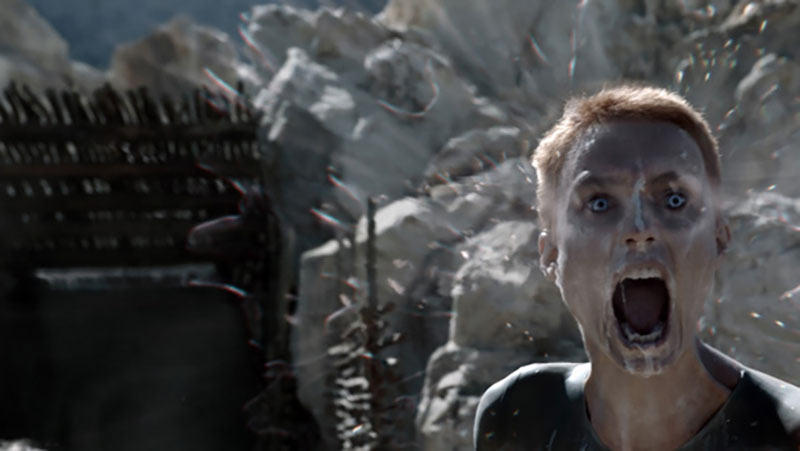 The exterior location work was in South Africa. Many of the separate locations in South Africa required blending and combining to produce the environments. The show's signature wide shot of the rolling cloud coming over the mountain seen in two episodes, was done both as actual timelapse and also by MPC as a Houdini simulation recreating the timelapse in 3D.
The Feature Film category is filling out with diverse entries – not all of these can be posted due to studio restrictions but the work is impressive. From DNEG come their beautiful science fiction effects created for 'Dune'. Led by Production VFX Supervisor Paul Lambert, DNEG VFX Supervisors Tristan Myles and Brian Connor, the DNEG VFX team contributed to 28 sequences and nearly 1,200 VFX shots of the film's total 1,700. Collaborating closely with the special effects team on-set, their visual effects crew ensured that all post-production work remained as believable as possible. Each VFX element was designed to bring the photorealism of Villeneuve's immersive vision to life for viewers. Massive and meticulously detailed FX simulations, sweeping environments, full-CG vehicles and creatures helped to make Dune's dystopian atmosphere fell real and compelling on-screen.
'Shang-Chi and the Legend of the Ten Rings', Marvel's blockbuster, required a huge range of effects from a long list of vendors. Four of them have entered their work in AEAF – Method Studios, Fin Design + Effects, Rodeo FX and RSP. Other entries are 'Jungle Cruise' from both RSP and Rodeo, and the thrillers 'Those Who Wish Me Dead' from Rodeo FX and 'The Tomorrow War' from Method Studios.
Possibly the most intriguing entry into the Feature Film category comes from MPC, whose digital human work over the past several years has been truly inspiring. For the latest Ghostbusters film 'Ghostbusters: Afterlife', the team has brought many fans' favourite Ghostbuster of all, Egon Spengler, back to the big screen. In the original films, Egon was played by the late Harold Ramis.
MPC Film's Character Lab began their work on this challenge by building a library of reference material from the 1984 and 1989 Ghostbusters films, and were given access to digital scans of earlier footage that had never been used before. They selected key angles and facial expressions, and began to create an accurate likeness.
The next stage was to explore the aging process to reflect concept art supplied by the filmmakers. The Character Lab team was supplied with scans and photography of a stand-in actor performing on set with the cast. Texture artists supplemented this with its own library of skin maps and photography of a life model of a similar age.
Starting with the earlier reference material, before they began the aging process, gave them a solid base to revert back to in case their work strayed too far from the original Egon everyone remembers. The production's concept art depicted an older version of Egon with scruffy hair and imperfect skin to highlight the time he had spent on the farm. The artists used that mockup and processed it with their young CG Egon to guide the aging.
VFX Supervisor Pier Lefebvre said, "A huge amount of detail is needed when you build realistic digital humans. We used some imagery of Harold Ramis later in life as well to show what his natural flow of wrinkles and skin texture were like. But even looking at photos of him at a younger age helped as you can see where strong features would appear. A person's expression lines usually stay the same and then, with time, gravitational folds and dry wrinkles starts to appear."
With all of this data, the Character Lab developed the features, with photorealistic hair and skin. Using subtle, expressive facial modelling and rigging, the team were able to give MPC's animators the tools they needed to create a convincing and emotional performance."Since we didn't have a set of FACS actions from Harold Ramis, we had to do lots of line ups based on photography from all of his movies. MPC's artists spent hours watching the first two movies and matching Egon's expressions and finetuning the range of the controls and blendshapes.
Particular attention was given to the look development of the eyes, where MPC has done extensive work in recent years. "It's crucial," Pier said. "The hardest thing about eyes, and also glasses, is that we experience those phenomena every day, just by having eye contact with people. This is the most common way of communicating for humans and definitely the one that is the most scrutinised."