Live Event Installations & Projections
From the Sails: Light Years
Art Processors
'From the Sails: Light Years', commissioned by Sydney Opera House to kick off its 50th anniversary year, captures the history of the iconic building and honours the land on which it sits. The result is a 17-minute audio-visual spectacle designed to run as a continuous loop, and projection-mapped onto the building's western facade, or 'sails,' every evening from October 19-30, 2022.First reflecting upon the ancient promontory known as Tubowgule to the Gadigal people, the film then honours the diverse individuals who've shaped the Opera House itself—including Jørn Utzon, Ove Arup, Peter Hall, Anita Levy, along with the welders, carpenters, engineers, and construction workers.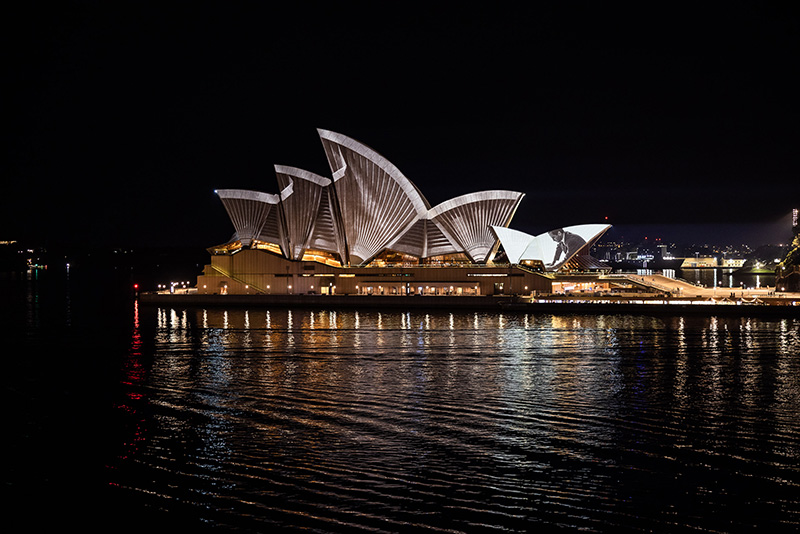 An iconic performance by American bass-baritone artist Paul Robeson is also featured, together with other highlights from the innumerable performances in the following decades. The Sydney Opera House sails provided an extraordinarily unique canvas for visual expression. The film could be seen from many critical viewpoints around the harbour—from the waterfront and on boats in Circular Quay to the rooftop bars and restaurants of The Rocks precinct, and even the Sydney Harbour Bridge. The Principal Artist of 'Light Years' was Sam Doust, who is also a Group Creative Director at Art Processors. Co-collaborators included Jake Duczynski of Studio Gilay, a proud Gomeroi and Mandandanji man, who explores Indigenous culture through animation; and Jason Poley, a CG artist, who assisted with sequences such as a cross-section visualisation of the audience streaming into the building.Motion graphics, animation design, VFX and general production occurred across a number of tools and disciplines, from filming at the Opera House front and backstage, and staging the project and output in Adobe After Effects, to Cinema 4D, Houdini, Photoshop and Premiere.
Sound design for Light Years was handled by Hylton Mowbray and Andrew Stevenson of We Love Jam, who are long-term collaborators of Sam Doust. The soundtrack is a crucial element of the film's narrative, featuring an original score plus numerous samples of historical speeches and performances. Given the vast number of locations to view the film, one critical issue arose: How could viewers listen to the film's audio precisely in sync with the visuals and with minimal fuss? It was unfeasible, logistically and acoustically, to install an array of speakers across all possible viewpoints for a 12-night run. Our ground-breaking sound solution achieved something that had previously never been done for such a large-scale projection onto the Opera House's sails.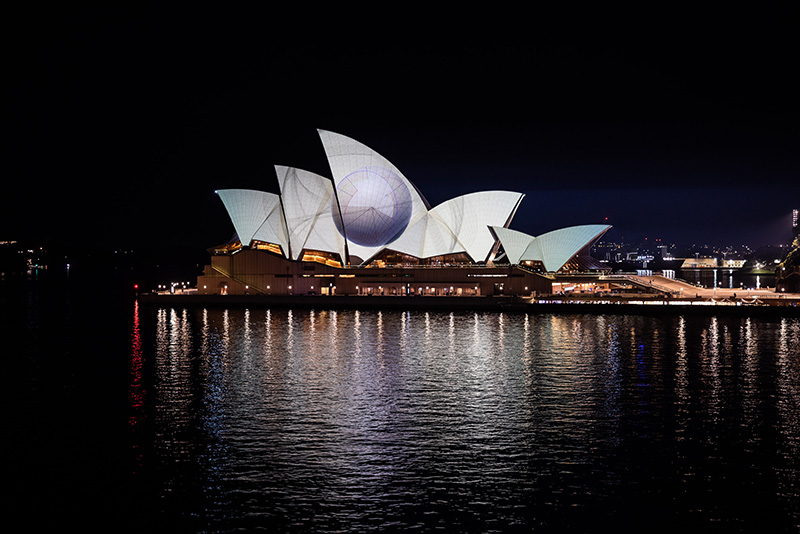 Taking inspiration from our audio-visual synchronisation systems for several museum exhibitions, we applied these concepts to an internet-based client so that anyone could listen to the soundtrack on their mobile device. When Light Years was projected on the Sydney Opera House sails in October, viewers could simply scan a QR code that would immediately open the mobile browser client to play the audio—no registration fields to fill, no app to download. Tested to tens of thousands of connections, audio latency typically sat at 25 milliseconds, far exceeding commercial broadcast standards.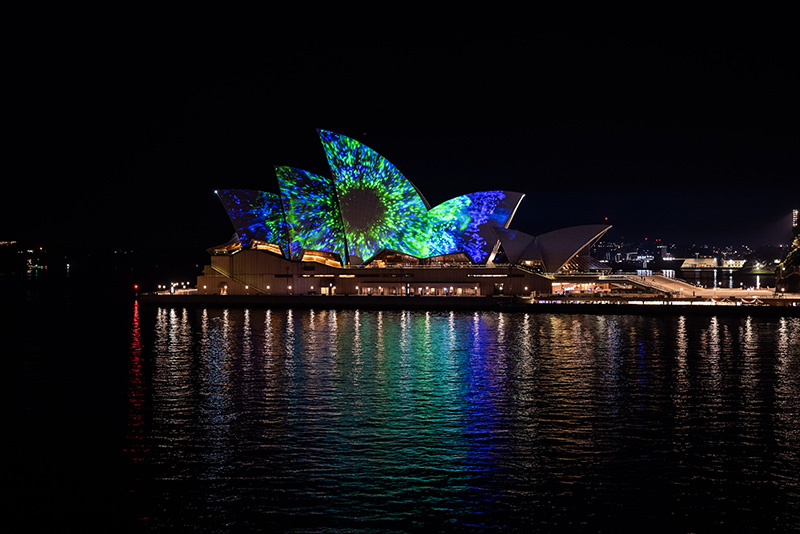 The end result was a combination of story and spectacle, with the dual purpose of projection art and cinema, where the visual experience was transformed when you put headphones on. The film captured the site's history, beginning with its origins as a meeting place of First Nations people through to its current status as a cultural and artistic landmark, traversing its fascinating design, architecture and construction phases, opening and acknowledging 50 years as a world-renowned performance venue.
CREW
Sam Doust, Art Processors
Jake Duczynski, Studio Gilay
Jason Poley
Original score: Hylton Mowbray and Andrew Stevenson, We Love Jam