Commercials - VFX

Menulog - It's Raining Deals on Menulog
Heckler
Starring legendary Wu-Tang Clan rapper Inspectah Deck, Menulog's new brand platform "Dolla Dolla Deal" was produced entirely by Heckler through creative agency Thinkerbell. Teaming up with Directors Stefan Jose and Sesh Moodley and Heckler's head of VFX Tom Corbett this project required a high degree of collaboration between production and VFX. The shoot had to coincide with Wu-Tang Clan's only Sydney concert and we only had Deck on set for 4hrs so we needed to previz the entire TVC prior to the shoot to ensure we hit all of our marks on the day. Heckler's lead editor Andrew Holmes cut the hero 30sec film to the beat of Wu-Tang's iconic 90's hip-hop anthem C.R.E.A.M (Cash Rules Everything Around Me). Tom and his team of VFX & Houdini artists then had the massive task of camera tracking and creating 3D geo to enable the millions of Dolla Dolla Bills to land on and interact with.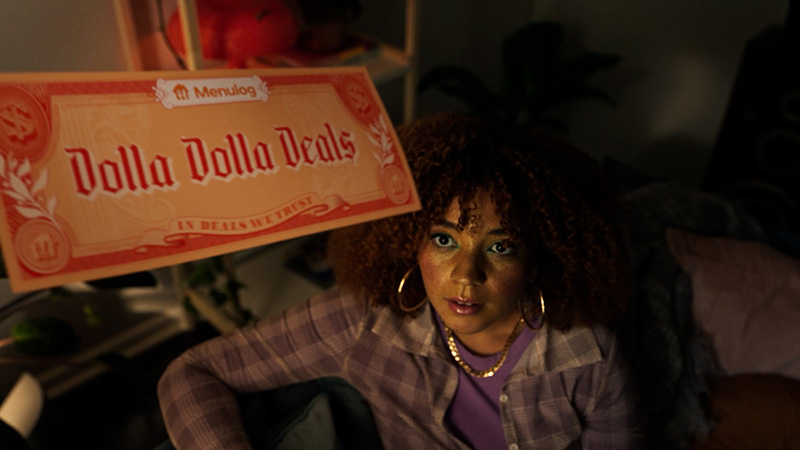 CREW
Head of VFX: Tom Corbett
3D Artists: Rachael Tedesco, Edward Hassan, Phillip Wang, Woon Yen Cheng, Ooi Sen Ree
Houdini Artist: Dusan Marjonovic
Client: Menulog Australia
Creative & Earned: Thinkerbell
Media Agency: UM
Production: Heckler
Directors: Stefan Jose & Sesh Moodley
Co-Founder & Executive Producer: Will Alexander
Co-Founder & Executive Creative Director: Jamie Watson
Head of Production: Amy Jarman
Producers: Coralie Tapper, Alex Bray
Director of Photography: Stefan Jose
Lead Editor: Andrew Holmes
Assistant Editors: Jordan Swioklo, Dan Page
Online Artist: Julian Ford
Colourist: Fergus Rotherham
Sound Studio: Heckler Sound
Executive Producer: Bonnie Law
Mix Engineer: Dave Robertson
Music Supervisor: Anton @ Trailer Media
Featured Track: Wu-Tang Clan - C.R.E.A.M.