AEAF Awards are now well underway with great entries so far in several categories. More submissions are rolling in – don't hesitate. The time to enter your team's work is NOW.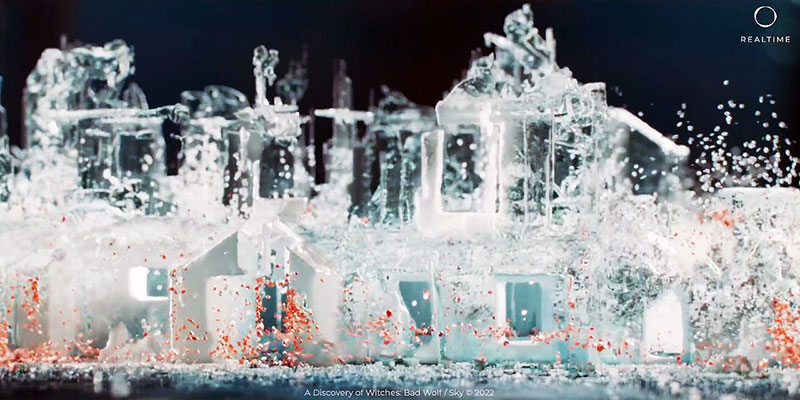 AEAF Awards are now well underway with great entries so far in several categories. Read more about some of them below, follow the links to see videos, more details and credits. More submissions are rolling in – don't wait to enter your own work. The Entry Form is here, the deadline is 30 May.
To follow on from the VFX that REALTIME had created for Season 2 of TV Series A Discovery of Witches, the team's new task in Season 3 was showing how much the witch Diana's powers have advanced, making them look both amazing and, at the same time, embedded into the character's story and the environment. As a result, the team had a chance to get stuck into a great range of different effects.
They showed Diana's inner vision of Elizabethan London co-existing with the modern day streetscape, starting with a combination of lidar scans and reference stills. The team also drew the audience into a scene where Diana is casting a spell with grains of salt that ultimately build up into a house using a Houdini particle simulation, controlled with target-seeking behaviour.
Diana's powers include weaving spells that involve luminescent threads. Again the artists could use simulations, but keep control over their motion using the ripple solvers and vellum curves available in Houdini. All of this motion needed to relate back to the live action movement of the actress' hands, which was matchmoved to give the spells that essential authenticity the show needed. The effects had to look as though Diana is the source of all motion and in complete control, especially when she curves the threads to form the bow she uses to battle another witch. The result is exciting and beautiful.

Ample Project's animated Short Film called Lifeblood conveys the filmmakers' ideas about the intersection of place, history and the identity of modern Australians, and the nature of their disconnection from a true cultural identity. Foremost is a lack of understanding of the Australian environment, leading to an inability to protect the delicate equilibria that have existed for millions of years on Earth. The project combines 2D and 3D animation styles, mixing looks from TV Paint and Toon Boom with work created in Maya, Blender and Cinema 4D, resulting in a project that encourages viewers to stop, look and contemplate. As the filmmakers at Ample Projects say, "Where are we rushing to? Stay a while, and you will see."
Vine FX was sole VFX vendor for TV Series 'War of the Worlds' Season 2, producing environment work, FX and menacing robots but also features many subtle visual effects you may never have noticed that make this sci-fi drama feel dangerously realistic. Extensive green screen work, from set extensions to DMPs to full CG environments, was called for, plus photoreal asset creation, destruction and FX simulations and complex compositing help make the show absorbing and memorable.

Blind Pig has illustrated the Alzheimer's Research UK's hopeful 'ode to the brain' in a Commercial that alternates between live action and motion graphics. Blind Pig conceptualised some of the brain's most impressive accomplishments – from architecture to memories, to languages – in colour and design before bringing them to life through animation, using After Effects and Cinema 4D.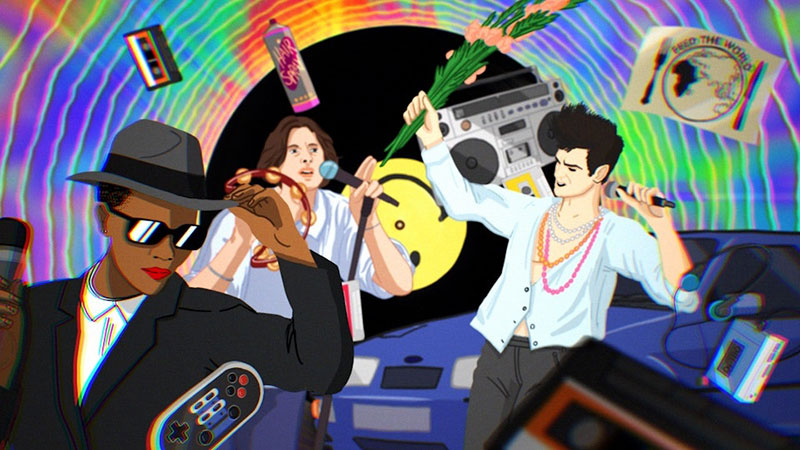 Blind Pig is also responsible for an animated Titles & Openers sequence for the BritBox Original series 'Our Generation: The Music That Shaped Britain'. Created as a continuous one-shot piece, it was made with Photoshop and After Effects, giving it the feeling of illustrations set in motion. Through very close collaboration, a continuous review cycle and a neat workflow between illustrators, animators and the music composer, Blind Pig also completed the main 30" and social media assets.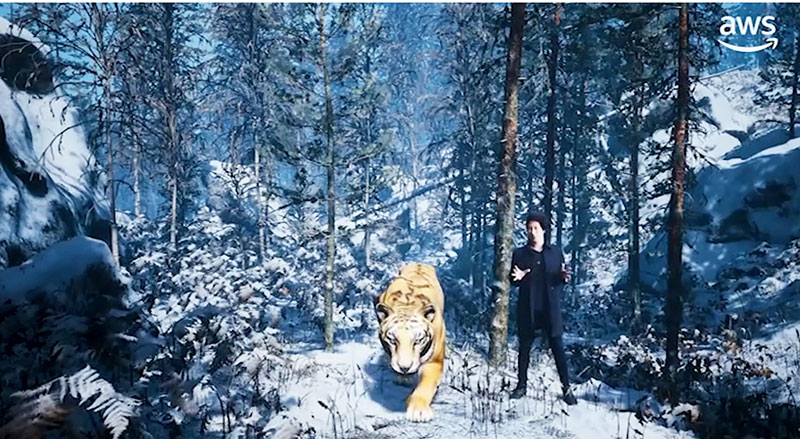 Imagination created a Live Event Installation project for Amazon Web Services (AWS) Innovation Day, a day of live streamed talks keynotes from the company's cloud specialists, insider tips, planning advice and interviews with re:Invent experts. To introduce them, the Imagination team took them to diverse worlds – earthly and other worldly, natural and built – created with After Effects in Unreal Engine 4.27.
Absolute got to work on an extremely fun-to-watch Web/Viral project, a tourism campaign for Meow Wolf's new installation Convergence Station in Denver. The film is made up of vintage travel ads and shot footage carefully cut together, but those seemingly innocent elements become bizarre sights as viewers watch and experience inter-dimensional travel through an alien landscape, made possible by Absolute's otherworldly VFX. They have even pulled the whole project together with a slightly flawed, but lovely, vintage film look. You can see the breakdown with the completed project here.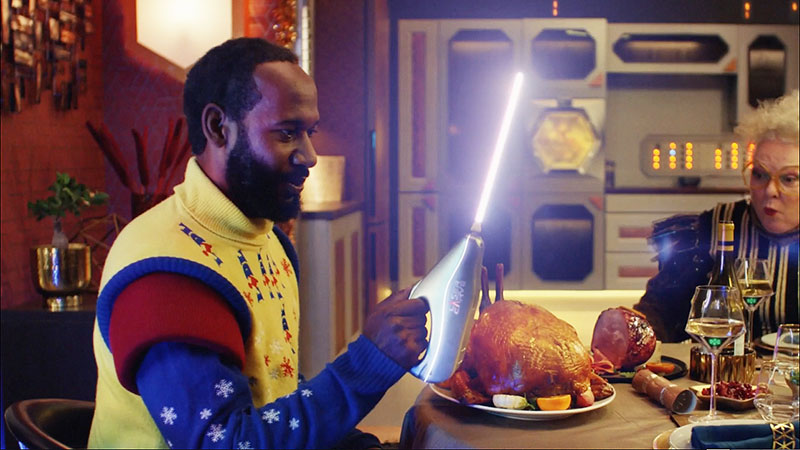 In case you were worried that high tech kitchen gadgetry might bring jolly family Christmas dinners to an end one day, Absolute's Commercial for Lidl will reassure you that the tradition won't go away, it will just look a little different. Their team's VFX and animation work on domestic versions of things like holograms, lasers and robotics will make you smile. The spot blazes with amazing colour. The team has also shared a great behind the scenes video to show their work.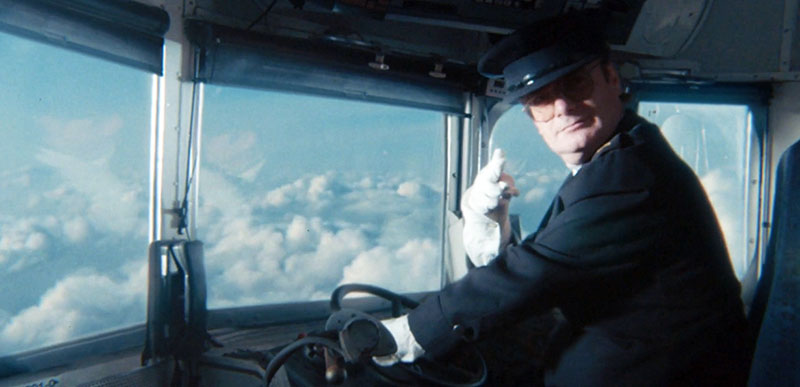 The motion design artists at MISTER flexed their photoreal 3D skills recently for several different Commercials that make ordinary things like shampoo, mattresses and debit cards look beautiful and exciting.
Redboat Animation has used animation to feature some important environmental topics in ways that improve public understanding of bushfire reduction burning, easing of light pollution and coral reef resistance. All of these challenges require efforts from local residents to be successful but are subject to misunderstanding, These Infographics visualise the issues and facts, and what people can do to help in a series of short and lovely animations.